milon CARE enables the best possible use of all milon components. It is the complete training and support software that combines all fitness center areas in your training or therapy facility into a Connected Training System (CTS).
milon CARE maps all training in the training space as well as defined processes in the studio. CARE is used to track members, assign training plans, and configure the perfect settings so customers can be provided with efficient, optimal support. It all starts with the biometric measurements taken by the milonizer. The measurement data and test results determined during this step can then be accessed in milon CARE – immediately and automatically.
The clear display and intuitive operation make milon CARE an indispensable control tool for your facility. CARE can operate all of the different milon series machines (Basic, Premium, Q) from a central location. No matter whether as an individual machine, in a circuit, in combination with multiple circuits, or also across multiple fitness centers. We have just the right solution for your facility.
The co-trainer is the real trainer's virtual assistant. It supports the trainer with advice about the specific customer's training practices and gives recommendations for current and future training.
Clear training planning, documentation, and control are now an option for the open training area as well.
Trainers can now select appropriate tasks digitally from a milon exercise pool and enter those additional exercises – along with the milon circuit – into the member's training plan. Members, in turn, can use milon ME to view their plan on terminals, the milonizer, or the app and confirm their exercises.
In addition, fitness center managers and training managers can use the Studio Configurator to create exercises of their own and use them in training plans (and integrate their own images and descriptions as well).
The Coaching Zone – the centerpiece of CARE
Trainers can immediately see all fitness center members who are training at a glance. Plus, they can quickly access all support-related information (training regime and progress, exercises, support status, training plan and equipment, co-trainer suggestion, etc.) and immediately react accordingly.
If necessary, they can then speak to individual users and accommodate their specific needs and wishes. This helps improve the quality of user support – ranging from individual support to standardized, across-the-board support that permits a trainer to assist more fitness center members.
Over the longer term, this boosts loyalty among existing customers and improves staff utilization (trainer/member ratio). At the same time, individual support remains an aspect of the relationship between the trainer and the fitness center member, because each displayed member has characterizing icons assigned to them (detailed information about the customer, co-trainer, training regime, training circuit, training equipment, birthday).
The system also clearly displays whether there are certain messages concerning a member, such as an extended absence or the expiration of a contract.
This information lets you take a proactive communication approach with your members. There's also the option to set filters, enabling real-time tracking of the amount of training that's taking place in the respective training areas (strength-endurance circuits, strength circuits, and cardio circuits) and the allocation of trainers to members.
Information about the training participation of the past 30 days (average training units per week and total training units)
Training plan and current progress (level) as well as the number of training units already completed as a percentage of the specified number of training units
The member's master data
Personal messages about the member (e.g. birthday, extended absence, or expiration of membership)
Active support tasks for the trainer
Current notices concerning the member (e.g. special offers used or health restrictions)
Where needed, simple shortcuts lead to all detailed information relative to the member's evaluations and co-trainer recommendations
Monitoring:
effective control and organization of tasks, fitness centre processes and support chains.
Customer loyalty
higher customer satisfaction through ideal support quality
✓ cloud-based software (access from any internet enabled device)
✓ secure data management (hosting server in Germany)
✓ no need to handle same data twice thanks to state-of-the-art interface technology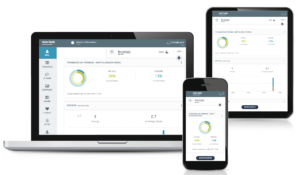 ✓ open connection to third party systems
✓ easy software installation, automatic free updates, ultimate system stability
✓ suitable for training and therapy facilities
Overview: efficient, comprehensive studio management (all CTS data in a single system)
Knowledge: Studio utilization is analyzed and optimized
Customer retention: enhanced customer satisfaction thanks to high-quality support
Control: tasks, studio processes, and support chains can be managed and organized effectively
Perspective: clear, high-quality training analysis, planning and monitoring in real time
Knowledge: qualitative assessment of the training (e.g. range-of-motion, heart rate, muscle balance ratio, training development, attendance)
Efficiency: centralized management of individual equipment settings for all users
Support: co-trainer suggestions; the trainer makes the decision
Customer care: individual training support; convenient access anytime and everywhere
Communication: news and updates can be sent to certain members or to all members
Freedom: Training planning is now an option for the open training area as well
Connection: better, proactive communication by the trainers
Motivation: enhanced support quality, more individual attention, and more effective support for achieving training objectives
I AM INTERESTED – PLEASE GET IN TOUCH WITH ME